Entrance Hall is a location in Candy's Burgers and Fries. Candy, Cindy, The Penguin and The Rat pass through here.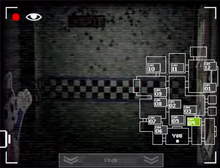 Appearence
Cam 4 views the Right Door, it has walls with a pattern similar to the other rooms, with a black and white checkered pattern lining the middle of the walls in a strip. There's a red sign with white letters that probably spell "EXIT", although this is unconfirmed. A posing cardboard Candy the Cat is seen at the left of the screen. The walls also are engraved with purple triangles. There is a framed picture hanging to the right of the camera's view.
Ad blocker interference detected!
Wikia is a free-to-use site that makes money from advertising. We have a modified experience for viewers using ad blockers

Wikia is not accessible if you've made further modifications. Remove the custom ad blocker rule(s) and the page will load as expected.